We're pleased to announce the availability of the latest update to SundayWorship 1.5.
This release includes some improved features and bug fixes.
New & Improved Features
Improved scripture selection
Accent safe searching
Improved song editor
1. Improved scripture selection
SundayWorship now incorporates a verse picker dialog to help make it easer to select verses. Click the Browse (…) button next to the Reference editor and select the Bible book, chapter and verse that you want to display.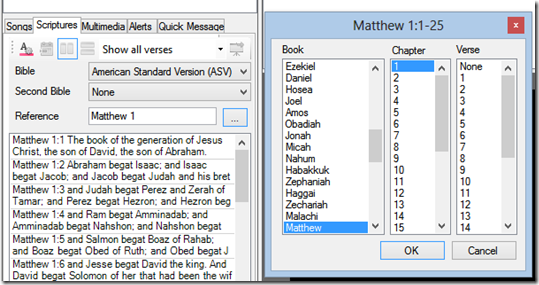 2. Accent safe searching
SundayWorship is now able to perform accent safe searching so that song with accents in their titles will be found when the accent-less characters are used. For example, in this search with accent safe searching disabled the song "Blessèd Assurance" is not listed.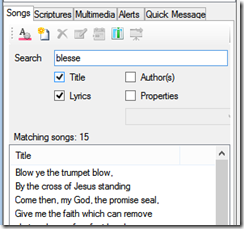 Now, with accent safe searching enabled "Blessed Assurance" is displayed in the list of results.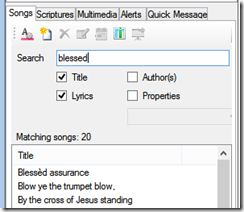 To enable accent safe searching see Tools –> Options.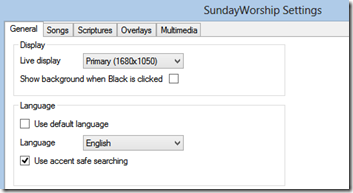 3. Improved song editor
We've finally fixed the copy & pasting problem in the song editor. You now get a toolbar with undo, redo, cut, copy & paste as well as a context menu with the same options.
Bug Fixes
1. Bible texts are not displayed when language is changed
If the system language was changed in the Options dialog Bible texts were not being displayed.
Downloading
You can download SundayWorship 1.5 from here or visit the download page.
An updated manual can be downloaded from here.
Upgrading
Although we don't expect any problems it doesn't hurt to backup your song database before upgrading. To do so click File –> Export –> SundayWorship Song Database, select all your songs and click export.
As usual, upgrades from previous releases of SundayWorship are free.
Problems & Questions
Should you find any bugs or have a question send us an email to our support account. See support.